Donna Kelly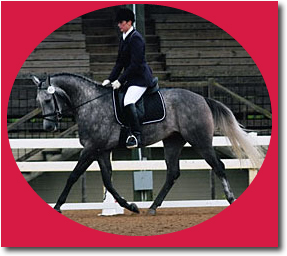 I began my riding career at eight years old in Tokyo, Japan at the American-Japanese Riding School. It was a wonderful riding school where my love for horses was fostered. I continued my education once my family returned to the States where I rode Hunter/Jumpers and later Stock Seat Equitation. Throughout my youth I won numerous state, regional and national awards. I spent hours both in formal lessons as well as riding bareback racing across fields.
As an adult I decided to expand my education at which time I began riding dressage and combined training in Switzerland under the tutelage of certified instructors. I worked as a bereiterin for four years for private farms while teaching English in the evenings. While in Switzerland I earned my competitive riding license which enabled me to compete in their rated shows. The exam is a grueling one where candidates must pass a four part exam. First the candidate's horse is presented and judged for grooming and care. There are written and oral exams covering horse care, competition rules and discipline knowledge all of which required my extensive knowledge of the German language. Lastly, the ridden test was a combination of a caprille test in addition to a dressage test to test riding proficiency.
I returned to the States in 1990. I have had the privilege of working with several gifted instructors such as Anne Gribbons, Linda Zang, Major Anders Lindgren, Jimmy Wofford, Karen O'Connor, Denny Emerson, Jim Kofford, Stacey Hastings, Scott Hassler, Lars Petersen and Tami Batts.